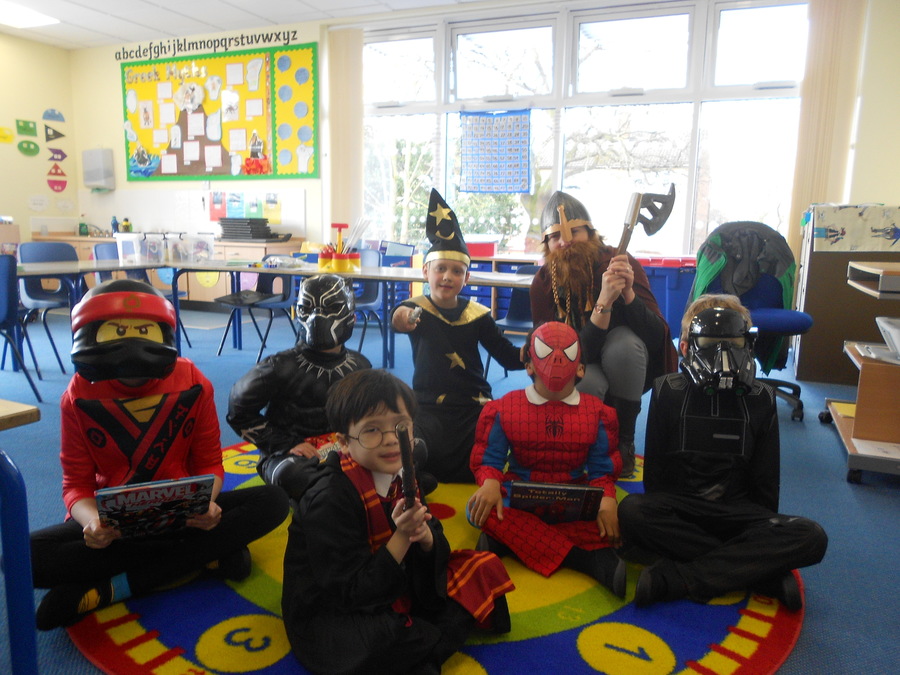 World Book day!
We're finally celebrating World Book Day! The children have dressed up as a variety of characters. You may even spot Mrs Ottery as Gimli the dwarf from Lord Of The Rings...
In literacy we have just finished writing our own Greek myths. The children have really enjoyed this unit, especially describing mythical beasts! We are now moving on to a poetry unit where we will be exploring narrative (poems that tell a story). In maths, we 've focused on addition and subtraction and are now moving on to explore word problems. We've been working in groups during lego therapy and our individual targets are helping us to improve our listening and turn taking skills.
Happy New Year! We have made a great start to our new literacy unit which is all about Greek myths. The children are enjoying listening to different myths and learning about their features, such as mythical beasts! In maths, we've been continuing our focus on formal written calculations. We're working in small groups on our speech therapy targets and also learning some of our topic vocabulary which will help us when our mainstream class teachers are discussing new words.
During the last few weeks we have been working hard on our explanations unit in literacy. We've nearly finished writing our explanations about 'how chocolate is made'. We know that an explanation describes what or how something happens. In maths we've been working hard on regrouping and using equal sum to help us with our calculations. We've just started to move on to more formal written methods for addition.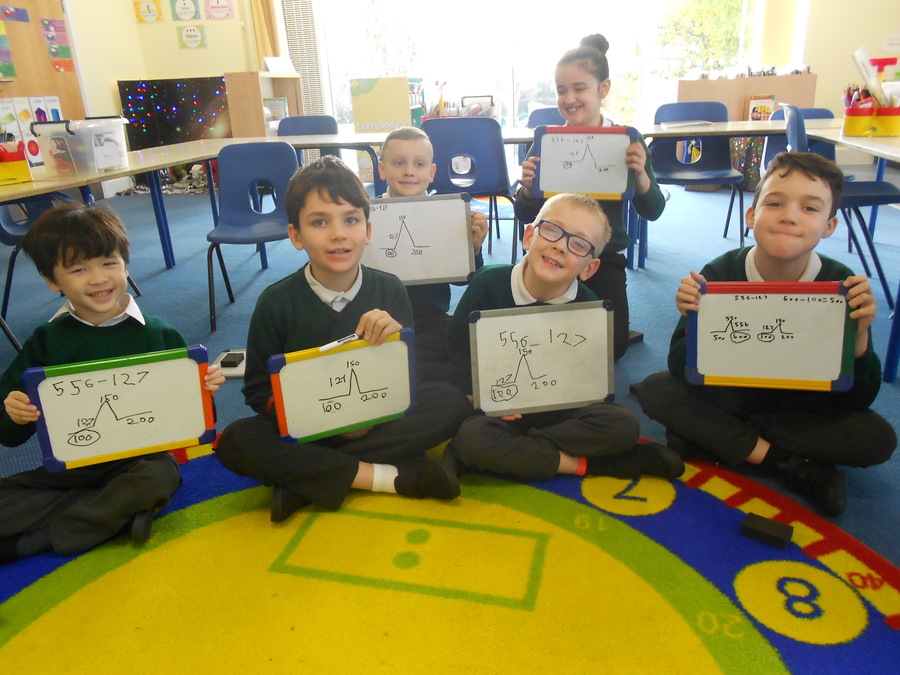 This week in maths we have been continuing to round numbers to the nearest ten, hundred and thousand. This is now helping us to estimate answers, so for example with the sum 347+58 we can round 347 to the nearest hundred (300) and round 58 to the nearest ten (60). We can then add 300 and 60 to give us an approximate answer. See our photo for some of our written calculations to support this work.
in literacy, we have been reading 'The Paper Bag Princess'. We then wrote our own endings using the play script structure and performed them as a group.
This week in maths we have been focussing on rounding numbers to the nearest 10. In literacy, we have started a new unit about play scripts and have been reading and performing a variety of play scripts. In speech therapy group activities we are continuing to focus on our listening and memory skills. Lego therapy is also continuing on a weekly basis as it helps the children to focus on these skills.
Speech and Language Base
Welcome to our new updated webpage! The children settled well at the beginning of term and have been working hard. In maths we have been focussing on place value and understanding number. In literacy we have shared 'Journey' by Aaron Becker, some fables as part of a narrative unit and are now learning about free verse poetry. You will have the opportunity to see your child's work on our parent's consultation evening.