1/11/17
Welcome back for the second part of Autumn term!
Many children began their own research over the holiday on skeletons and muscles for our new topic: Head to Toe. Some of them brought in fabulous information posters. Thank you so much for your hard work!
We have started learning about this topic as a class. Today, after learning the names of the major bones in our body and what they do, we put together a paper skeleton (without a reference photo) in groups.
18/10/17
Our KS2 Harvest service was a great success!
Year 3 came together to perform a play on words poem and they did a fabulous job speaking loud for everyone to hear.
Plant Four Rows of Peas
Peace within ourselves
Peace with each other Peace in our school
Peace in our world

Plant Four Rows of Squash
Squash unkindness
Squash rudeness
Squash unhelpfulness
Squash selfishness

Plant Four Rows of Lettuce
Lettuce be hardworking Lettuce be kind
Lettuce be patient
Lettuce show our care for one another

Plant Four Rows of Turnips
Turn up when you're needed
Turn up to lend a hand
Turn up to help one another
Turn up and make a difference

Plant Four Rows of Thyme
Thyme for ourselves
Thyme for each other
Thyme for family
Thyme for friends
Thank you to all the parents who could make it despite your busy schedules.
:)
As a Brilliant Beginning on September 6th, Paul from Life in the Rainforest (https://www.lifeintherainforest.co.uk/) visited Year 3. The children spent the morning sketching artefacts from his travels, such as a purse made from an armadillo, a boar's tusk and a bird's foot. After that, Paul showed everyone a variety of insects and arachnids that you might find in rainforests across the world. If they were brave enough, children had the chance to touch hissing cockroaches, a millipede and even a tarantula. In the afternoon, Paul showed both classes photos and videos from his decades of travel. A favourite amongst everyone was a video of a trapdoor spider jumping out to try and grab its prey, and a video of a woman selling barbecued tarantulas while sitting on a bucket of live ones! To end the day Paul unrolled an anaconda's skin and the children were able to hold it. It definitely was a brilliant day!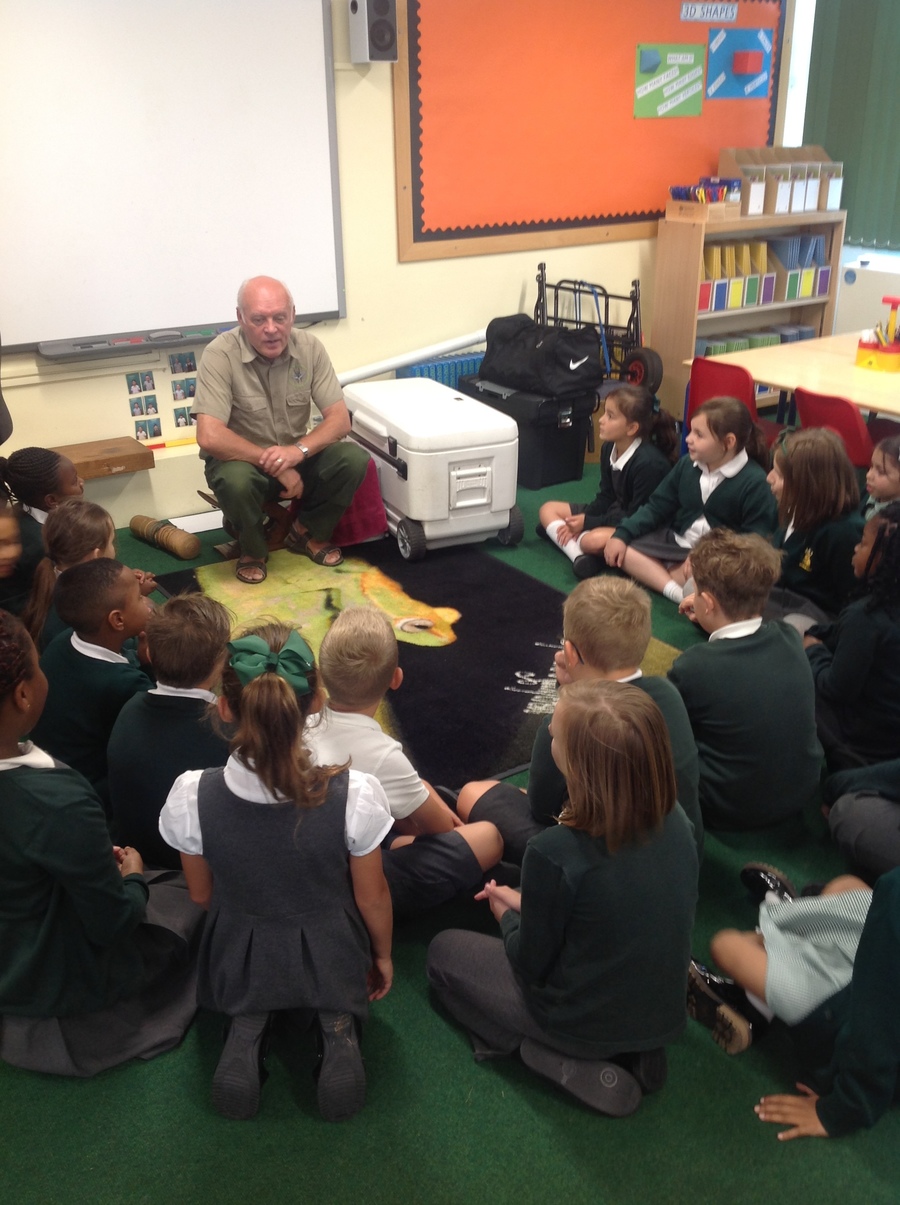 Welcome!
Welcome to 3B's page.
We will be posting updates about our class as often as possible, so please check back to see what the children have been up to.
Some information about our routines:
Please read with your children at least 3 times a week and sign their reading record.
Homework will be given out on Friday. Please return the homework on the following Wednesday.
3B are having indoor PE on Monday, and outdoor PE on Tuesday afternoon for the Autumn term.
Please ensure all of your child's PE kit is labelled and they have plimsoles or trainers.
Miss Brockway