In A Dark, Dark House
This half term we have been busy learning about the human body, animals, survival and we have been carrying out investigations in science. We have considered what we need to survive, learning the different parts of the human body and in Art using charcoal and chalk to sketch. We have also read two books; Whizziwig and A Dark, Dark Tale which the children have really enjoyed and produced some lovely work. Throughout the rest of this half term we are focusing on Funny bones and creating a 3D house with a light circuit and more science investigations about the human body.
You should be able to see lots of the children work and what we are doing on seesaw. If you are still have not signed up or having trouble with seesaw please ask and we can support you in using seesaw. it is a fab way for you to be bale to see all your children hard work.
Class Presentation
Our class presentation was a huge success and all the children loved being able to explain to you all the different skills they have been learning in various subjects. Thank you to all the parents and family who could make it. Below our two videos showing the class presentation and the class fairy-tale film they had made in a workshop. Hope you Enjoy!
What is a cherry model?
In maths a cherry model can be used to partition numbers and show parts of a whole number. Below are some examples showing how you can use cherry models in different ways.
Please click on the link below to see examples using the cherry model:
https://www.youtube.com/watch?v=6Y5nUOo_9Dc
Below is an image showing an example of a cherry model. The two parts make a whole.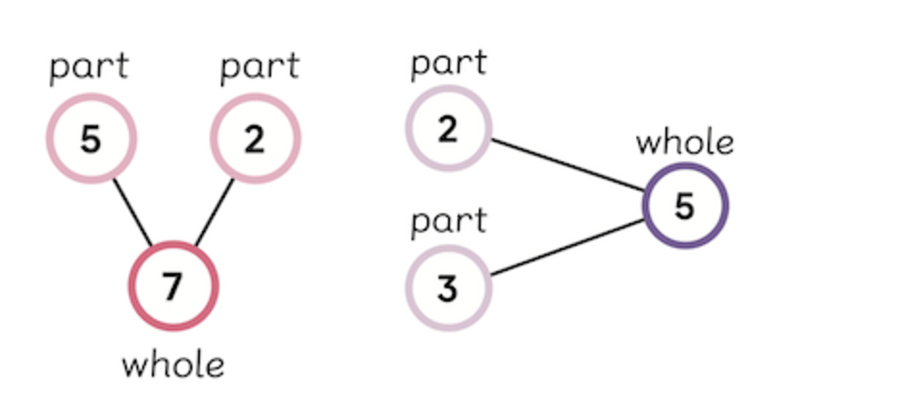 Fairy- tale Workshop
The last 5 weeks in year two have been very busy and the children are getting use to the daily routine and have really enjoyed our topic Once Upon a Time looking at different fairy-tales and investigating and learning different skills across the curriculum. Today we were lucky enough to have a visitor come in and children took part and created their very own Fairy-tale. Children enjoyed dressing up, acting and playing a role in the play. Below are some pictures showing you just how much fun we had.
Junk Modelling Castles in Art
This week we have enjoyed making our castles using different junk modelling resources, tape, scissors and painting them to make them colourful. Children really enjoyed learning different techniques to fold the card, make joints and create designs on their castles. Thanks for all your help bringing in all the resources for children make their castles with.
Year 2H
Welcome to the website page for 2H. This term we are going to be learning about fairy-tales. In our topic we are going to be; testing everyday materials, directions and prepositional phrases, creating junk model castles and in D&T we are going to be creating a costume for our favourite fairy-tale characters. Don't forget to save any cardboard and clean, empty containers for our junk modelling lessons.
In our first week at school we have been busy creating our own self-portraits and designed our castles ready to be made out of our junk modelling resources this week.