Roman Mosaic
In our art lesson, we looked at ancient Roman mosaics that still exist. We then designed and made our own tiles based on the pictures we had seen. Here are some pictures of us at work:
Wild Thing Big Wow!
This week in 4CM we made fat ball bird feeders. We had to soften lard, roll it in bird seed and put it into a yoghurt pot. It was a lot of fun!
We then went outside and looked around the school grounds to see what wildlife was about.
Energy efficient houses
Year 4 have begun their DT projects which involves designing and building an energy efficient house. They started by designing a house on paper, they then moved on to making a prototype of their model. They have now cut all the pieces of wood for their structure. We will assemble the pieces soon. We will keep you updated with the finished products.
Rememberance day
To commemorate 100 years since the end of World War 1, the children all painted a poppy on a pebble. The whole school then placed their poppies in the shape of a cross in the hall. In class, we discussed the significance behind this important day.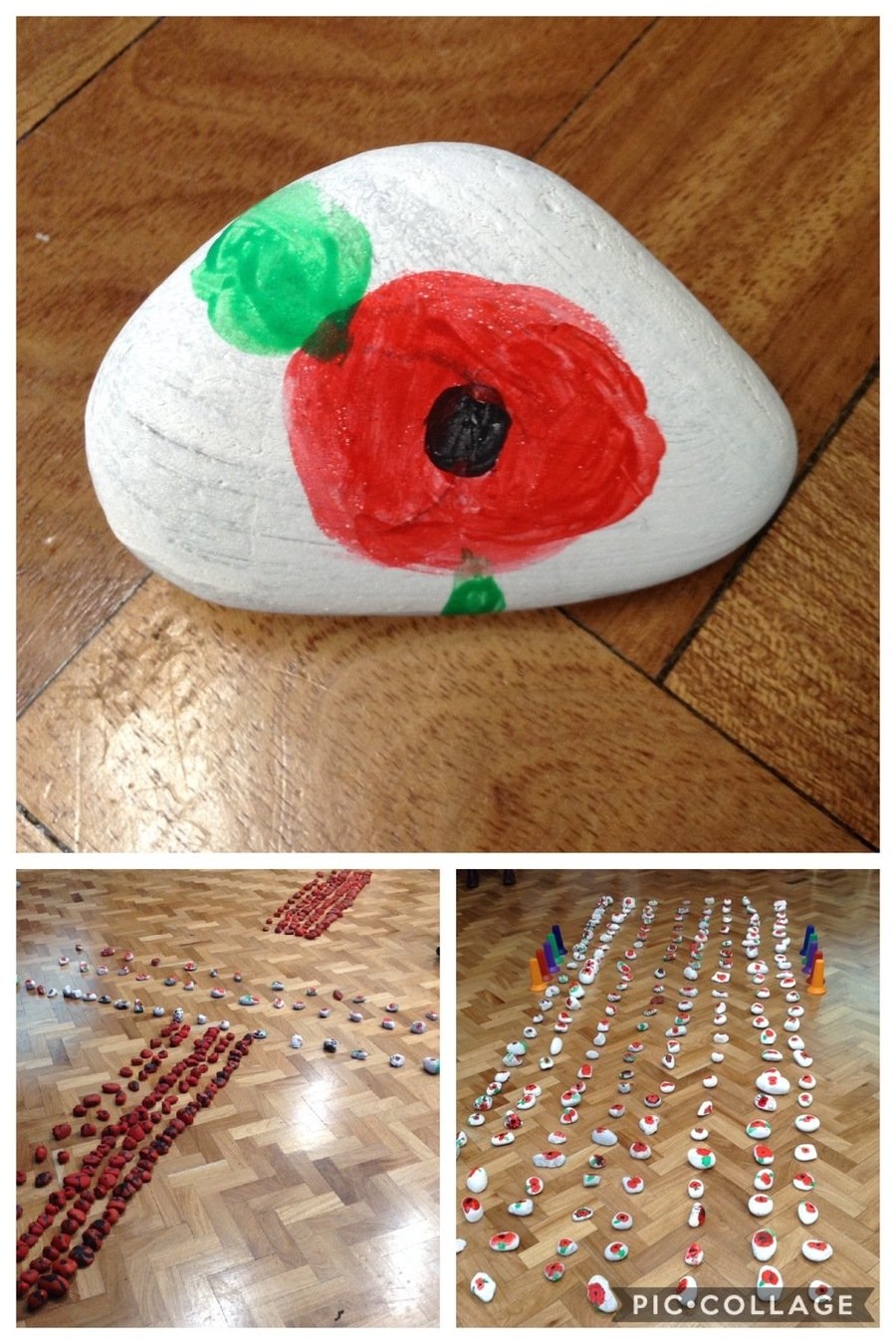 Mayan Aluxes
During 4CM's art lessons, the children have used clay to create their own Mayan Aluxes. They will be designing and sewing a cape and a headdress for their clay figures.
Maya workshop
To start our topic on The Maya, we were joined by Dr. Diane Davies, a Maya archaeologist! She brought in fascinating artefacts from her travels to Mexico and shared amazing stories from her trips to the rainforest and the Mayan temples!
The children all created their own Mayan calendar and explored the artefacts that she shared. To find out more about Dr. Davies, please visit her website www.mayaarchaeologist.co.uk/
Year 4CM
Welcome back to the new school year! We hope you had a lovely break and are feeling refreshed for the 2018/2019 academic year. The children have settled in well and are making a great start to their work so far.
Just a few helpful hints:
PE is on Monday - we are currently learning about Mayan Dance so indoor kit is required. white t-shirt, green shorts and plimsolls or trainers.
Homework must be handed in on a Wednesday and our spelling lesson is also Wednesday ready for the following weeks spelling homework.
Reading records are checked on Wednesdays, children should be reading and getting their records signed at least three times a week.
If you need to speak to Mrs Clark or Mrs Morison, please make an appointment at the office or leave a message and we will get back to you as soon as we can, as mornings and at the end of the school days are really busy for us as we ensure all children are safely in class.
Please return Seesaw Code of Conduct slips back as soon as possible so that you can access this years exciting posts!