In the dark, dark house...
We are really enjoying our new topic 'In the dark, dark house...' We are learning about how animals and humans grow. We learnt that all animals stop growing when the reach adulthood. We also looked at xrays and thought about human bones.
In literacy, we have been reading 'A dark,dark tale.' This was a little bit scary and filled with suspense. We are now writing our own versions, which we will film on Seesaw. So watch out parents!
In maths, we are going to be learning how to tell the time. It would be great if you could practise this at home as much as possible. We are also doing a lot of work with coins and any chances to practise would be great. We are also working exceptionally hard on our handwriting and many of us are joining our letters now.
A few reminders. Please ensure that your child has a PE kits in school as we are doing gymnastics and need to be wearing a PE kit to do this. Also, can you try to make sure all children have indoor shoes as it is very wintery outside and it is important to have a dry pair of shoes to wear in class.
Step Back in Time
We have been stepping back in time and learning about The Great Fire of London and the Great Plague. We had a visit from Cheshunt fire department and they were very impressed with our knowledge. We really enjoyed this visit.
Please remember, that our class presentation is on Thursday 22nd November at 2.45pm. We can't wait to see you there!
What is a cherry model?
In maths a cherry model can be used to partition numbers and show parts of a whole number. Below are some examples showing how you can use cherry models in different ways.
Please click on the link below to see examples using the cherry model:
https://www.youtube.com/watch?v=6Y5nUOo_9Dc
Below is an image showing an example of a cherry model. The two parts make a whole.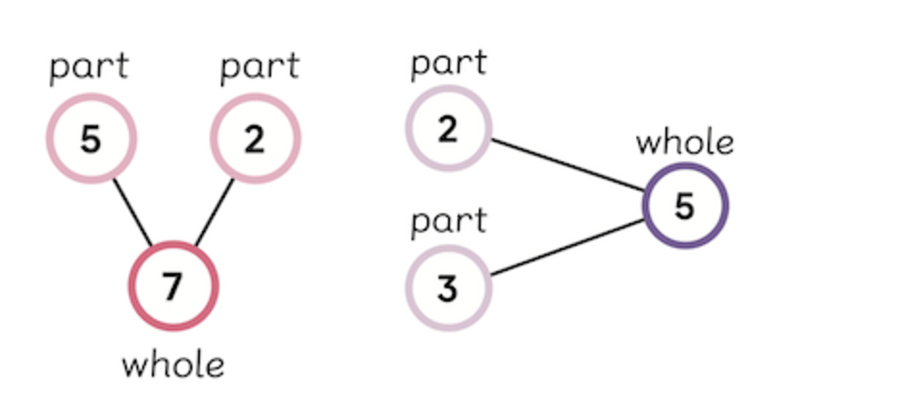 Year 2T
Welcome Back!
I would like to extend a warm welcome to all the members of 2T. We have started the year off beautifully. Our first topic this term is 'Once Upon a Time.' We will be learning about different fairytales and using these to inspire our work. We will also be learning to join our handwriting and continuing to improve our spellings.
Homework
Thank you very much for the lovely homework we have had so far. Please be reminded that homework will be checked on a Wednesday. Please complete the times table and spelling activities each week as well as one topic activity.
Reading
Please ensure that you are reading as much as possible. The reading records need to be signed three times a week. Where possible, please indicate in the reading record when your child has finished a book so we can help your child change their book.
PE and indoor shoes
Please make sure your child has a labelled PE kit in school. We will be doing PE on a Wednesday and we are really lucky to have yoga on a Friday too. Please ensure children have indoor shoes.
Seesaw
As many of you know, in school we use an app called Seesaw. This allows you to have a small 'window' into the classroom. If you are not yet connected to Seesaw , then please speak to your class teacher so that you can be given access.
Times tables
We are starting to learn our times tables and are starting with the 2 and 5 times tables. Please feel free to try some of these online games to practise at home. https://www.topmarks.co.uk/maths-games/hit-the-button
https://www.echalk.co.uk/Maths/tables/cloudTables.html
I am excited to continue with our fantastic work.