Early Years, Primary and Secondary Admissions
Making applications for children to join an educational establishment involves important decision making. If your child already attends Downfield, we hope the following information will support you in choosing those next steps. If you are considering joining Downfield, we would like to offer a warm welcome and hope you find everything you need on this page.
Visits to the school are very much encouraged and although we are altering them slightly to provide a Covid-safe visit, we would still be very pleased to meet you at Downfield.
Our wonderful Nursery and Reception staff will show you around the outside of the school. You will be able to ask questions and talk to staff. You will be given the opportunity to look inside the Nursery or Reception classrooms and may enter if you wish. Staff will remain outside. We ask that unless medically exempt, you wear a mask or face covering.
Please telephone the school office to book a place on a tour. 01992 629598

We very much look forward to meeting you.
Available Tours for prospective Reception class parents:
Thursday 24th November 3.30pm - 4.00pm
Thursday 8th December 3.30pm - 4.00pm
Friday 6th January 3.30pm - 4.00pm
Available Tours for prospective Nursery parents:
Tuesday 4th October 2022 2.00pm- 2.30pm
Thursday 17th November 2022 3.30pm- 4.00pm
Wednesday 11th January 2022 9.30am- 10.00am
Monday 6th March 2022 3.30pm 4.00pm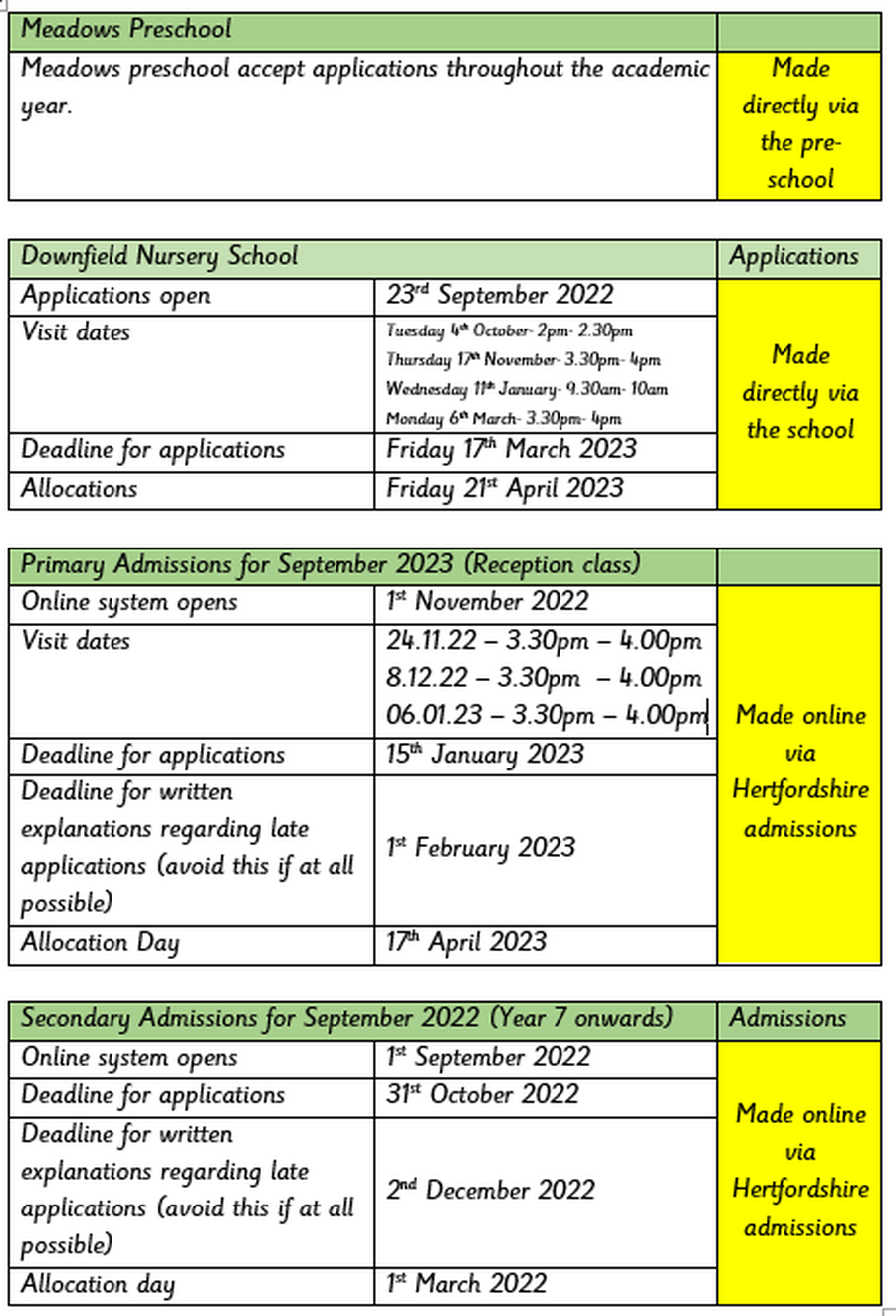 Preschool and Nursery applications are made directly via the school. Application forms and relevant policy documents can be found below.
Primary (Reception Class) applications are made via the HCC admissions site. Click here to access the site.
Secondary (Year 7 onwards) applications are made via the HCC admissions site. Click here to access the site.
Applications for Nursery places can be made using the link below. Please read the nursery admissions policy and Settling in and Taster Session policy before completing your application.
Please take a look at our video showing our wonderful nursery classroom.
Post allocation day information and support
If you wish to access post-allocation day information including details about the continuing interest and appeals process, the information is available on the Hertfordshire website at www.hertfordshire.gov.uk/admissionsoptions Those without access to the internet can contact the Customer Service Centre for a 'What Can You Do Now?' leaflet on 0300 123 4043.